Network Virtualization (NV), The New El Dorado
NV: What it is and what is the market size?
On Open Flow discussion list,
someone from Stanford University asks
on October 5, 2011:
I am trying to get a feel of how big the network virtualization industry will become. Do you have some sources on how much the industry is or will be worth? I have seen some figures on the compute and storage virtualization industry (such as from VMware), but I have not found such figures, or even discussion on network virtualization.
The reply comes from another
contributor at Computer Science Stanford University
If you're a computer scientist, this is entirely the wrong way of thinking about it. Instead I would ask: what does network virtualization mean? how does it affect the networks, systems, and applications you are interested in? What transformative change can it bring about? What awesomely cool stuff can you do with it? How will it affect the world? Understanding the technology and what you can do with it is the important part.
If you're a VC, well then, it's going to be HUGE - bigger than Cisco, Juniper, Comcast and AT&T combined!*
Nobody formulated yet a widely accepted definition of what NV is, but everybody knows this technology has a HUGE market size. Google trends shows a sudden jump in the last18 months
http://my-inner-voice.blogspot.com/2012/07/nicira-sold-for-126-billion-to-vmware.html?q=network+virtualization
In absence of a substantial definition or market data, the interest is triggered by news like
Big Switch Bets On OpenFlow, Network Virtualization
(ONF) where we read that
"...some ONF members describe OpenFlow as a virtualization technology. "We think we can be the VMware of networking,"
Or even news that
Dario Calia (from Cisco) Joins Vello to Lead Network Virtualization Development
, another ONF based start up or
ConteXtream Launches Software-Defined Network Virtualization Solution for Cloud and Hosting Providers
. The latter is a an event from December 2011, barely 1 month ago
Google trends is a mechanical tool, not an intelligent one, as it extracts the NV trend from content titles it believes contain the words "NV" Thus, it misses significant players, for example the
Cisco Acquisition of Linesider
, completed in December 2010
It misses companies like
Nicira
,
Embrane
and
Machine to Machine Intelligence (M2Mi)
. In this blog I would look into two key companies: Nicira and M2Mi
Nicira is a the darling of Silicon Valley, while no one really knows what they do. Their web site is vague,yet we see an impressive list of management people and investors. Anderseen Horowitz , top progressive VC on the Silicon Valley, Diane Greene, ex CEO VMware and Andy Rachleff, Benchmark Capital and Stanford professor. Nicira does not list any customers, and it has $40M in funding
In the 2009 article
Open vSwitch Project Launches
, Reuven Cohen writes
Before I go into the details of the project I will say I find it very interesting the complete lack of any insight into who is behind the project. The website doesn't include company or contact information.... According to the whois lookup, the openvswitch.org website is registered to MartinCasado a student at Stanford with no affiliation with Citrix. Some further digging through the mailing archive I discovered the only real activity seems to be coming from a stealth company called Nicira.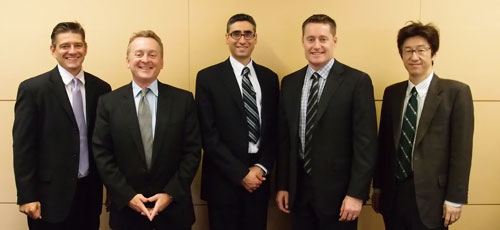 Now we know Open vSwitch comes from Nicira, which means they are not fans of ONF. To find out what is going on, we must a New York Times blog from October 2011
What Nicira is up to
. This New York Times piece soared the curve trend of Nicira as the the real embodiment of NV
Steven Mullaney, the CEO says vaguely
. "We are the most non-disruptive disruptive company out there," he says. "All the networking companies will be around." What he may be ripping out, however, is the most valuable part of those companies' business: the brains that govern what they do. He would not say when this will start, but indications are that it is a matter of months.
A matter of months?
The company originated with Martin Casado, now its chief technology officer. According to Mr. Mullaney, Mr. Casado was working on network security for Lawrence Livermore National Laboratory some years ago, when he was asked by United States intelligence agencies to figure out how to run a global network that could continually change levels of security and authorization.
"They needed something that would be flexible all the time," Mr. Mullaney said. "He couldn't do it, so he went to Stanford to solve the problem." While at Stanford, Mr. Casado began what would eventually be Nicira with Nick McKeown, a professor there, and Scott Shenker, a professor at the University of California, Berkeley.
Here we have to admit the big truth . There is not Network Virtualization without proper security. And this security - not the virtualization
per-se -
is the biggest stumbling block. Here is an example of use of the of theNicira technology at Japan's N.T.T (not clear if it is customer or a beta tester)


There is no way to perform a live migration of data from Mushashino to Atsugi, without proper security. Nicira may or may not reach the security standard they set themselves as a goal (continually change levels of security and authorization). If they don't, the security feature may have to be set down a more pragmatic achievable level, The story on how Stanford and Berkeley universities became involved shows the technology is not yet proven. One day it will, yet the first Nicira adopters will take a higher risk
M2Mi (Machine to Machine Intelligence)
M2Mi is a start up based on NASA Ames Research Park at Moffett Field, California. They started in 2006 and will reach six years as a profitable business in 2012. Their Active Configuration platform provides orchestrated services through the combination of an Orchestration engine and Network API libraries. Orchestration allows you to "transactionally" sync interactions across different devices all in one process.
According to the
NV entry
from Wikipedia
Machine-To-Machine Intelligence (M2MI) technology covers both Internal, External and Multi-vendor software and hardware based technologies. M2MI is unique in its approach of applying "whitelist" blocking across all multi-vendor network elements, this approach ensures that Virtual Machines can not be "ARP spoofed", a technique used to compromise Virtual Machines at the network level.
Security of M2Mi is proven. Their patented
GlobalockBox
can be used with AWS S3 and,has a cloud front end and middle ware that works with plug-in libraries for encryption. For virtualized clients, it uses a commercial library for encrypting business applications; for government projects, it uses the NSA Suite B Cryptography for IPSec (a library that incorporates elliptic curve cipher technology)."
M2Mi's presence in NASA Ames Research Rank hints they have government customers. But their list of business partners includes some of the top commercial companies in Silicon Valley:
Intel
, Oracle, Ericsson,
Joyent
and Cisco Systems.
Like the other players in NV, M2Mi are not disclosing much beyond their proven and patented technology.
Geoff Brown, M2Mi CEO
Last year George Brown wrote on Cloud Computing Google group:
Quite simply put, we address a significant market pull arising from the requirement to ... provide layered robust security services of which network provisioning is one element. I think it is fair to say that this area is complex, while customers want a simple to use, "cookie-cutter" solution.
Geoff sums up his company as follows:
From my perspective we established and now lead the growing field of Network Virtualization
I agree that (1) NV is not a "cookie-cutter" solution, (2) that the solution must blend NV with the Cloud Data Center Virtualization and (3) the security must be near military grade. The market is HUGE and we can not wait to see a proof from analysts.
By the time the analysts (Gartner, IDC, Forrester and the others) will create the taxonomy of the NV market and estimate its size, it will be too late. The treasure will be shared by early players. Like in any poker game, some players bluff, and all keep their cards away from prying eyes.
M2Mi appears to have a proven, albeit hard-to-use complex solution. Nicira has the top names backing and promoting it, but we are promised results "in the next few months", a time frame continuously sliding so far.
Cisco, VMware and HP appear as leaders in the IT community from a year ago. Brocade, Emulex, Force 10, Huawei, IBM, Juniper, Oracle/Sun are also listed.
Cisco, VMware will the prime candidates to acquire any of the startups described in this blog. They have the power to collect the revenues from he market defined as "bigger than Cisco, Juniper, Comcast and ATT combined!"