Is the "New Approach to Amazon EC2 Networking" really so new?
I had a look at the new blog from Jeff Barr at AWS, that are always a pleasure to read. I like the push botton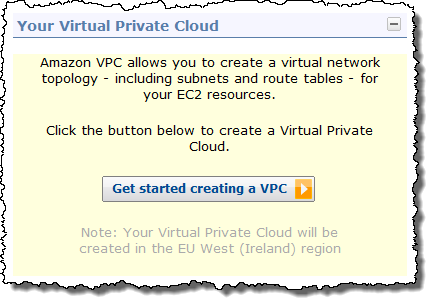 I look at some of the features and I asked myself: are they really so new? I happen to know CloudSigma IaaS cloud in more details, but other public cloud providers can make similar claims
A new VPC Wizard to streamline the setup process for a new VPC.
CloudSigma does not have this feature, one can get it a standard server with web interface developed with relative ease.
Full control of network topology including subnets and routing.
CloudSigma has this a default since almost one year
Access controls at the subnet and instance level, including rules for outbound traffic.
This is a surprise. Do you mean AWS did not have the above, until this week announcement? Of Course CloudSigma has it
Internet access via an Internet Gateway.
In CloudSigma this is controlled by the customer but we can put some standard deployments in that are out of the box ready for use.
Elastic IP Addresses for EC2 instances within a VPC.
What does it mean? . Every CloudSigma customer get to set its' own private IP networking as standard.
Support for Network Address Translation (NAT).
This is a good hint. CloudSigma does not have it now, but it couldbe set-up on the gateway server, and incorporate into any standard gateway server for deployment in the drives library.
Option to create a VPC that does not have a VPC connection.
I assume this means a fully private instance. This standard in CloudSigma
At the end, I see a couple of questions from readers. What about IPv6 support? I just learned that Amazon EC2 instances do not support IPv6? I can not believe it. I thought we push an AWS button, and voila!. Maybe we should for ask Harry Potter